Delphi Methodology
A 2-stage modified Delphi consensus process was conducted as part of Aim 1 of this project, which includes creation of a minimum set of outcomes and associated measurement instruments for use in all clinical research studies that are planning to evaluate acute respiratory failure/acute respiratory distress syndrome (ARF/ARDS) survivors after hospital discharge.
The protocol developed for our modified Delphi process can be found under Aim 1 on the "About us" page.
---
Resources: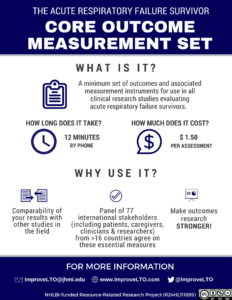 Generic templates and resources to aid researchers interested in implementing a modified Delphi consensus process.
Templates: 
References:
Helpful links:
Core Outcome Set – Methodology
Reporting and Dissemination
Other